II-VI to acquire Finisar for $3.2 billion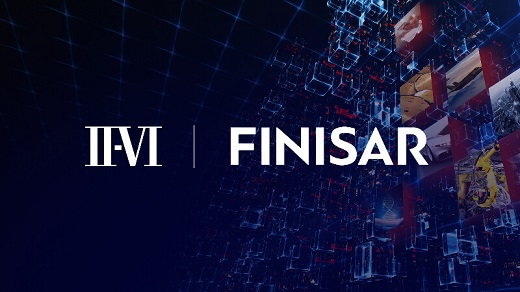 US optoelectronic component manufacturer II-VI has announced that it will acquire optical communications firm Finisar for $3.2 billion. The combining of the two firms will enable them to better address the emerging markets of 5G, 3D sensing, cloud computing, electric and autonomous vehicles, and advanced microelectronics manufacturing.
The transaction is expected to close in the middle of 2019. Together, II-VI and Finisar will have an annual revenue of approximately $2.5 billion.
The combined firms will form a larger photonics and compound semiconductor company that will serve fast-growing sectors such as communications, consumer electronics, industrial processing lasers, automotive semiconductor equipment, life sciences and military.
'Disruptive megatrends driven by innovative uses of lasers and other engineered materials present huge growth opportunities for both of our companies,' said Dr Vincent Mattera Jr, president and CEO of II-VI. 'In communications, materials processing, consumer electronics and automotive, we expect that the combination with Finisar will allow us to leverage our combined technology and intellectual property in InP, GaAs, SiC, GaN, SiP and diamond to achieve faster time to market, cost and scale. Together, we believe that we will be better strategically positioned to play a strong leadership role in the emerging markets of 5G, 3D sensing, cloud computing, electric and autonomous vehicles, and advanced microelectronics manufacturing.
'…we look forward to welcoming Finisar to the II-VI family and further strengthening our competitive position in the industry.'
Upon closing of the transaction, Dr Mattera will continue to serve as president and CEO of the combined company. In addition, three Finisar board members will be appointed to the II-VI Board, which will be expanded to 11 directors.
The new company will provide a full line and scalable supply of high-performance Datacom transceivers, products based on coherent transmission technology and ROADM solutions. It will market products into next-generation undersea, long-haul and metro networks, hyperscale datacenters and in 5G optical infrastructure.
In addition, according to the firms, their combined optoelectronics capabilities, based on GaAs and InP compound semiconductor laser design platforms, will enable them to achieve a faster time to market for a greater number of opportunities in 3D sensing and lidar.
The firms' broad portfolio of differentiated engineered materials, together with their extensive optoelectronic, optical and integrated circuit device design expertise, will also unlock access to larger markets in RF devices for next-generation wireless and military applications, as well as power electronics for electric cars and green energy.
'The combination of our state-of-the-art technology platforms, deep customer relationships, great assets and amazing talent will enhance our ability to hit market windows that won't stay open for long,' said Michael Hurlston, CEO of Finisar. 'This combination will accelerate our collective growth and will take advantage of the technology, products and manufacturing expertise that Finisar has uniquely developed over the course of its 30-year history.'
Mr Hurlston added, 'We are confident that the growth potential for the combined company is substantial, and we believe that our respective shareholders will be able to enjoy significant potential for value creation when the transaction is completed.'
Under the terms of the merger agreement, Finisar's stockholders will receive $15.60 per share in cash and 0.22 shares of II-VI common stock, valued at $10.40 per share. The transaction values Finisar at $26.00 per share, or approximately $3.2 billion in equity value. Finisar shareholders would own approximately 31 per cent of the combined company.
II-VI intends to fund the transaction with a combination of cash on hand from the combined companies' balance sheets and $2 billion in funded debt financing.
The two firms will employ over 24,000 associates in 70 locations worldwide, and will be saving around $150 million in operational costs within 36 months of the merger.